cheeseball love
November 9, 2012 | 52 Comments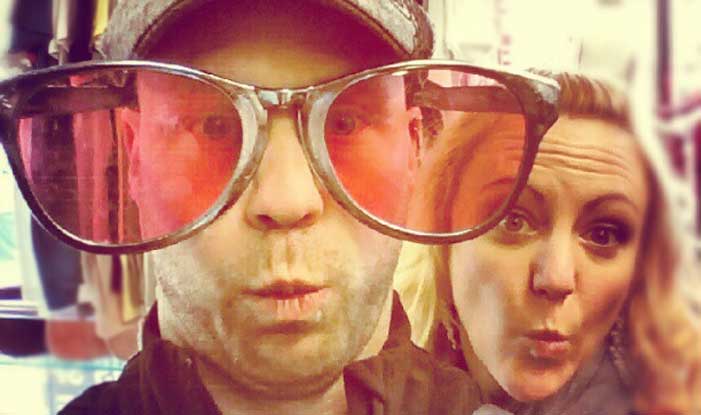 I'm curled up on the couch at my in-law's house in Calgary. The roads are too terrible to drive to Caroline tonight, so Steve's dad picked me up from the airport and brought me home for the night. We're leaving at 7am and I should be in bed, but I had caffeine a few hours ago and I'm addicted to the internet. Awake it is!
Steve's parents moved into this house the year before we met. They've been talking about buying something smaller for years. If they do, I'll miss it here. This house represents my formative years. My life was crazy when I met Steve; he and his family were a refuge. They provided stability that made space for my becoming. Steve didn't grow up in this house, but I did.
As Gerry and I drove into their neighbourhood tonight, we passed a park surrounded by a chain-link fence. I can't pass that fence without remembering the first winter Steve and I were together, just before we got married. We were coming for a visit from the basement suite I lived in alone, until Steve moved in after our wedding. It was snowing a wet, sticky snow, perfect for snowballs. It fell steady, twinkling as our headlights cut through. We approached the park near his folk's house and I could see each diamond section of the fence piled with fresh snow.
I can't remember if the idea was spoken into being, or if it just happened. It felt like the car took over and pulled up in front of the fence without our permission. Steve put it in neutral and pulled the e-brake. He jumped out of the car, smiling big at me through the windshield as he passed in front.
I heard myself laugh and I jumped out before Steve reached the fence. I saw him stretch up and run his gloved hand through the snow on the fence, carving out a letter 'I' half the size of his body. I skipped through the snow to my own section of fence and, with my mittened hand, raced to finish my messages first, shuffling over as I completed each letter to start the next.
We both finished and stepped back to take in what the other had written. There was our new, cheeseball-love, professed for the neighbourhood, spelled out in snow letters on the park fence.
Steve and I have had a a rocky six years. We've almost separated three times, most recently last Christmas. I don't know if we're through those dark spaces, but I know I feel fresh, whimsical in-snow-love. Steve is my fucking favourite. He makes my life better. I want to get whole and devour the world with him. I want to carve out love messages with him and for him. And for me and Emma and everyone in our corner. Snow-love on the house!
Our relationship is rooted in a deep friendship. It's packed with memories like our fencemanship. We've had so much easy fun together. I'm ready for more. I love you, Edward.
---
Please join my Truthfully Facebook page.
Joining up with Yeah Write for BlogHer's NaBloPoMo. No guilt. Just fun.
Other loveable posts: