things to do in vancouver
June 15, 2013 | 39 Comments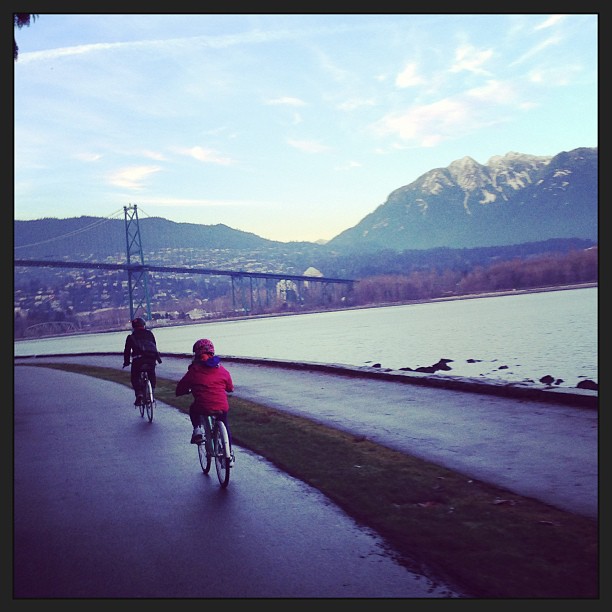 Metro-Vancouver is an oasis of things to do. Google your heart out and you'll find the typical touristy suggestions. And they'll all be fantastic. For reals. But when I travel, I wanna know what the locals do. This gives me better insight into a place. So, here's my short list of things this local loves—an insider's look, if you will.
(Note: each heading is a link to more information. Handy, right? Even though it breaks good-web-writing rules. WHATEVS.)
Donuts
Yes! I said donuts. We have three of the best donut shops.
Canadian Whiskey Bacon. That is all.
You'll likely take a wander over to Granville Island, a popular spot for locals and visitors, so be sure to stop at the Public Market and have a taste!
Deep Cove is in the easternmost part of North Vancouver. It's an adorable escape from the city, well-worth the drive for the beauty of the bay. But Honey's Donuts puts this place over the top. You've never tasted anything like them. You just haven't.
Poutine
Fries with cheese curds melted with a douse of gravy. Disgusting or… AMAZING! Canadians have become famous for poutine. We're not sure how to feel about it, so we just focus on eating it. If you're looking for the best stuff, you have more options than I can name here.
Good luck deciding which dish to try! Helpful, I know.
Fritz European Fry House
If you're shopping on Granville Street, treat yourself to a poutine break. You earned it?
Found on Commercial Drive (The Drive), which is a couple of quick stops on the SkyTrain from downtown. These portions are sharing-size.
Gelato
Does every place have awesome gelato? I don't remember gelato being a thing in Alberta… but maybe I just wasn't paying attention.
This one has a special place in my heart. The week we were house-hunting, we stayed with friends on Commercial Drive and went for gelato almost every day—sometimes twice a day—to eat our feelings. It was a week full of tears, whisper screaming, head shaking and… gelato! Steve likes this one because it has a sugar-free option. Emma always goes for the cookie dough and I have a crush on their salted toffee (which isn't always available).
This is where we tend to go when we have visitors. It's ridiculous in every way. It plays the loudest and most bizarre music, the exterior of the building is painted bubble-gum pink and they serve 218 flavours with names like Wasabi, Curry and Garlic. You can sample all 218 flavours before deciding, if that's your thing. I'm usually so overwhelmed I end up with Chocolate. Or, if I'm feeling especially edgy—Double Chocolate! It's definitely worth the experience.
Many Vancouverites rave about this place. We've only been once. When I asked if they had any sugar-free flavours on Steve's behalf (he has Type 1 Diabetes), the dude behind the counter seemed insulted. He told me the chemical ingredients necessary to make sugar-free flavours would hinder their process. They're pretty serious about their gelato, I guess. The website says the owner went to a Gelato University in Italy. Gelato University; I had no idea! I can't remember what flavour I chose, but it was tasty for sure. Just don't take your diabetic husband.
Free Fun
Free IS fun.
Window-shopping, people-watching, pub-crawling, hipster-judging, international-cuisine-ing — The Drive has it all. It's a great place to spend an afternoon.
Vancouver is full of so much back-yard goodness. Lynn Canyon is one of them. You can picnic, hike and swim (if you're really, really brave). There's a suspension bridge that crosses over into the Canyon that's the perfect amounts of scary and wee!
You could hit Lynn Valley and Deep Cove in one swoop! Baden Powell takes you through North Vancouver from Deep Cove to the suspension bridge. You'll need friends and a ride for this one.
Beach and Park Fun
Beaches and parks and fun—oh my! This is what Vancouver's good at. Really good.
"…located in West Vancouver British Columbia [Lighthouse Park] is one of the most amazing scenic parks you will see on the West Coast. Walk through acres of first-growth douglas firs and stand next to trees that are considered to be giants."
"Located at Ferguson Point in Stanley Park, Third Beach is a naturally sandy beach surrounded by trees that shield dippers and tanners from urban noise. This is a great beach for quiet bathing, picnics, and watching sunsets."
This park is on your way to Deep Cove. It has a kid-friendly beach, 6 kms of waterfront trails, a playground and delicious milkshakes. Emma and I spent some time catching crabs here. A first for both of us prairie girls. Thrilling and creepy.
There are roughly two million-billion more spectacular things to do in Vancouver, but this should get you started. Also check out Bored in Vancouver for some original to-do lists. If you're bringing the kidlets, Vancouver Under 5 is an fab resource.
I recently rode the plane with an American couple who had two days in Vancouver before their cruise launched. (Cruises launch, right?) They asked me what I would squeeze into two days. I told them they must walk the Sea Wall at Stanley Park and take in some of its humungo. I suggested they take the Sea Bus from the Waterfront Station over to Lonsdale Quay and putter around the market. And Granville Island which is iconic and lovely.
And coffee with me. DON'T FORGET COFFEE WITH ME.
---
Head on over to the Truthfully Facebook page for a like if you enjoyed this post.
Other loveable posts: